Behavior
Plugin for PowerSchool
MBA's Behavior plugin extends the number of fields available through Log Entries. Easily spot trends and internal notifcations encourage timely responses and follow-up to behavior incidents.
On Demand Features Demo Video
On Demand Demo
Explore some of our favorite features right now with an on-demand video demo. Get instant access!
On Demand Features Demo Video - Conference - Behavior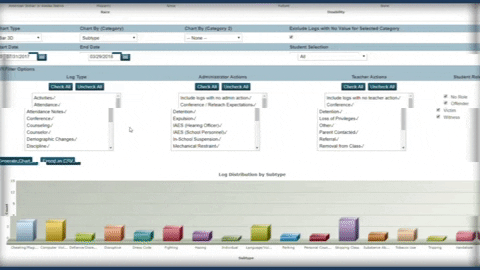 Enhanced Interface
Customizable dashboards provide a visual representation of your data, making it easy to spot trends and make informed decisions.
Track Parent/Guardian meetings and outcomes
Track suspensions, detentions and dates served
Track other participants, victims and witnesses
Maintain data related to roles, motivation and actions
Flag log entry as Harassment or Bullying Incident
"One click" send for emails and letters
Suspension and detention reports
On Demand Features Demo Video
Customize your log entry screens
Plus more options for teachers.
Options for adding locations, motivations, others involved and outcomes
Control access to log entry fields for Admin and Teachers
Admins and Teachers can set auto alert notices by log type, students
Option for teachers to enter or view logs for all students or just the students they are assigned
Option for teachers to view student Log History
Option for teachers to view Administrative Actions
On Demand Features Demo Video - Conference - Behavior